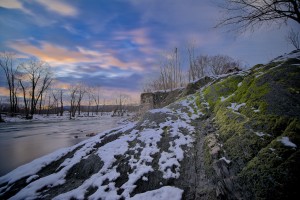 A river runs through New Paltz as it makes its way from the NJ Highlands. It traverses three counties and 69 tributaries and just past Sturgeon Pool, combines with the Rondout Creek, entering the Hudson River estuary near Kingston. Due especially to its unique south- to- north path, the Wallkill River teems with wildlife such as 22 species of fish, turtles, salamanders and frogs, even otters, among others. People go over it – hundreds of us each day – residents and tourists. Some of us fish in it, recreate, take photos and otherwise enjoy the Wallkill River.
The Wallkill used to be swimmable. It used to be relatively free of pollution. But we, an environmentally conscious community, have not taken good care of the Wallkill River in our vicinity or its tributaries. Enterococcus, an EPA approved fecal contamination indicator, continues to be documented in high numbers by Riverkeeper, especially correlated to rainfall events. Fertilizer, poorly functioning sewage treatment plants, leaking septic systems, old landfills and dumping have impaired the river. Layers of bright green algae have been spotted. While they can be innocuous or harmful, initial indications are that some of the algae blooms we saw this summer are of the harmful, potentially toxic kind.
We can do better.
This summer, the Wallkill River Watershed Alliance was founded with the mission to restore the Wallkill and its' watershed to a swimmable and ecologically healthy condition. Boat Brigades from the alliance now patrol the river searching out discharge sites and problem areas as well as enjoying the Wallkill, their reports have been forwarded to Riverkeeper and the New York Department of Environmental Conservation. A Science Working Group is planning a research program and testing river samples to discover exactly what is in the river and has recently acquired new in-house testing equipment.
Please join us in caring for the Wallkill River. If you see something – dumping, unusual river coloring, or anything that appears to be out of the ordinary, say something. Contact us at the wallkillalliance@gmail.com, https://www.facebook.com/wallkillriver and join us in restoring the Wallkill River.
Fran Wishnick
Member, Wallkill River Watershed Alliance